The Designers designed a look for the fabulous DIANE von FURSTENBERG's fall collection, inspired by the movie: "
A Foreign Affair
".
Stella-Leatha' was auf'ed.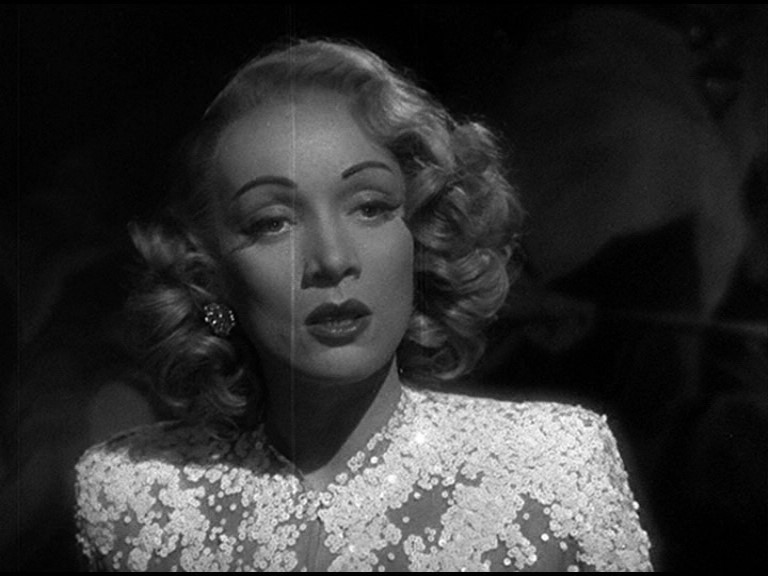 Actress: Marlene Dietrich
RATE the RUNWAY:
Manda
: I've got to say, those bubble pants are interesting and the print is nice, but i can't seem to get 'pajamas' out of my head. Blayne doesn't fail to squeeze in a flash of his "trademark" neon colours. hmm, but what is it you're trying to say with your outfit, Blayne?
May
: Hated the bubble pants. sorry manda.i just dont think anyone can pull that shit off. the coat was decent.. but there was nothing new about it. blouse looked like some scarf stuffed randomly in the opening of the jacket collar. i'm not impressed. dont like Blayne.
Manda
:
I don't mind this look, cute sheer-glitter pencil skirt, though I'm not a big fan of 'Mo' hair, cute outfit overall. But I was thinking, that this look would look better with a thinner belt. But after looking at DVF's look book, I think this is merely a copy of her collection.
May
: I think this look looked so much worse on the runway than here. i thought the top was horrendous!or maybe i'm just biased 'cause i dislike turtlenecks. and yes, this is a blatant copy of this look, straight off her runway:
get creative, dude.
Manda
: I see the "shanghai" element, and perhaps "spy" with the hideous hoody to hide under, the colour of the blouse just doesn't cut it.
May
: This look looked so much better as he was creating it on the mannequin than on the runway. i actually feel bad for the dude, i think he had a decent idea, it just came out wrong. i mean, the execution was just bad bad bad. this guy just got too ambitious.
Manda
: I like how the print turned out on the dress, but i'm still undecided on whether the lace works with pop floral prints! I definitely see some chinese element with the tight bodice and short turtleneck.
May
: Manda, call me tacky, but i think pink lace would have worked- not hot pink, but like a nice rose pink/scarlet. but then, i still like this dress with black lace. this reminds me very much of
Fa Yeung Nin Wa
(
In The Mood For Love- Wong Kar Wai
, film buffs). this is very sexy shanghai. i love the talent that Kenley has.
- something unrelated: Heidi's face when all the judges disagreed with her comment about Kenley's look not including multiple pieces? Classic. looked like she ate shit. :)
Manda
: I'm not sure why this look was so appealing to the judges, I don't think pairing the metallic pattern print with the yellow really shouts 'fashionable' and I think it is quite boring. However, I do think the cutting of the front is nicely draped, creating gentle waves.
May
: Are you serious? i loved this look! i loved the yellow and the psychedelic black/white spiral print, i thought it was extremely eye-catching. actually, i probably would have picked this look to win - but then again i dont know, it was really close competition between Korto, Leanne, and Kenley for me.
LEANNE
Manda
: I love the dress, especially the colour and the look of the fabric. I also love the jacket, but I don't see the two working together, as the dress already has a long trail of pretty ruffles, I think the layering on the jacket just makes the outfit too bulky.
May
: This jacket gives me small orgasms- the colour, style, the cut of it, yes yes yes. I'm liking Leanne more and more. i thought the dress was beautiful, but i'm not a fan of long dresses so it wasn't anything breathtaking to me. overall, i thought her design fit the brief very very well.
Manda
: "Count Draculess" - Bye Bye Stella
May
: Haha, i love how you have nothing to say. yeah, this did look very "dracula" and the execution was horrible, but really i didnt think it was that atrocious. and Stella did kind of grow on me, much more so than Blayne or Suede. and she's pretty. oh well. bye Stella.
Manda
: I guess the Jacket
is
kind of cute, I like the cutting and the 'awkward' shape, I can see it worn with the simple - wife beater & dark A-line jeans, but I really don't like the dress, nor the fabric.
May
: But see, the problem with what was underneath, whatever it was, was that it WASN'T a dress! it was this weird awkward pant/dress thing, and it looked incredibly horrendous when she was moving. i mean, standing here in this photo she actually looks half decent, but i promise you that this look was completely atrocious on the runway. i dont understand why the judges cant just send this guy home, i cant stand him anymore!!!!!
Manda
: Coat, Boring. Pants, Boring (plus it looks very badly tailored, the crotch area looks a wee bit too tight). Blouse: Cute, maybe I'm biased because I love the fireworks print.
May
: Amanda, except the print was the only thing she didn't make about this whole outfit, she took the sample from DVF's sample room. therefore, i do not give any props to Terri. this look was boring, she is, exactly as Joe described, a one trick pony. i'm sick and tired of her turning out bad looks every episode and getting away with it. i wish the judges would just get rid of her. THE MODEL HAS CAMEL TOE FOR HEAVEN'S SAKE! that's it.

All Photos from: style.com, dvdbeaver.com & Bravotv.com
Who do you think will be going home next and who will win it all?



- Posted by May and Amanda, a collaborative effort to destroy this show. that's why they call it "breakdown", you know.